Course details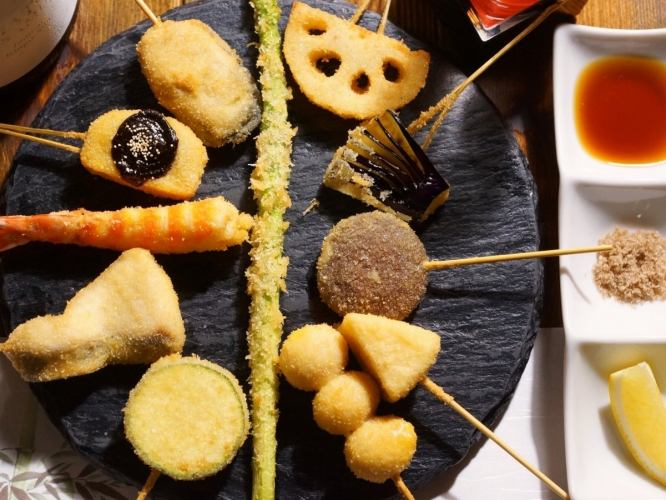 【Seasonal Feast Course】 8 picks of carefully selected skewers · Gem of the day · Gifts such as gifts 11 dishes + All-you-can-drink all-you-can-eat 4400 → 3900 yen
By using a coupon3900 yen
11items

2

~

15persons

All-you-can-drink available

All-you-can-drink menu ※ 1 Customers over 6 people in group do not take last order.I will make it an order stop by the time I told you the first time.All-you-can-drink sake selected + 4 500 yen sake today, non alcoholic beer, sparkling wine at + 500 yen!
Introductory course of young ladies general merchandise! Includes all-you-can-drink 2 hours in culinary delights of eleven satisfying luxury items such as 'Selection of seasoned pick-up fried seven sorts in a billboard menu' and 'Seasonal ingredients used' This price! It is recommended to use a banquet in a private room with up to 15 people! Additional + deals with "500 yen extra drinks" and "Muromachi beef and superb winding" added are also available
Menu
【Seasonal Feast Course】 8 picks of carefully selected skewers · Gem of the day · Gifts such as gifts 11 dishes + All-you-can-drink all-you-can-eat 4400 → 3900 yen
◆ Assorted three kinds of appetizers of the day
◆ Today's gem
◆ Assorted 8 deep-fried skewers
◆ deadline stuff
===============================
■ Additional options (+ 500 yen additional OK)
· Luxury winding of the superb live Union and Murakami cattle
· Pick up konbu seaweed raw noodles caviar
· Unlimited drinking time usually extended from 2 hours to 3 hours
· All-you-can-drink grade UP (All-you-can-drink beer as well as sparkling wine and 4 selected sake)
※ Please tell at reservation
===============================
* Purchasing situation · The content will be changed according to the season.
※ 2 persons -
※ The use time of the seat is 2 hours 30 minutes.
All-you-can-drink menu
·draft beer
- Kirin Ichiban Shibori
·Sake
· Asahiyama, Kirin mountain (cold wine · hot spring)
·Whisky
Rock, whiskey and water, highball
·plum wine
Rock, whiskey and water, soda
·wine
Red, white
·liqueur
· "Jin, Vodka, Cassis, Peach] × Cocktail with your favorite soft drinks!
· Sake High
· Oolong high, green tea high, corn bearded tea high, lemon high, grapefruit high
Shochu
· Wheat shochu, potato shochu (rock, water split, hot water split)
·Soft drink
· Oolong tea, green tea, bearded brown bean, orange juice, grapefruit juice
Reservation deadline

Visit of the desired date of the previous day until 16 pm
Available days for reservation

Monday - Sunday - Public holidays - Holidays
2018/10/17 update